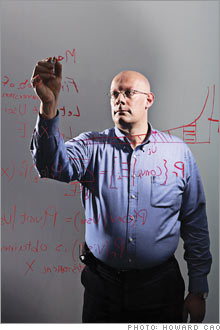 Before joining Yahoo!, Dr. Usama Fayyad worked 5 years in Microsoft Research and building data mining solutions for Microsoft's servers division. From 1989 to 1996, Usama held a leadership role at NASA's Jet Propulsion Laboratory (JPL) where. In 2000, he co-founded and served as CEO of digiMine Inc. (now Revenue Science Inc.), a data analysis and data mining company.
Dr. Fayyad has been in Yahoo! for more than 4 years, being chief data officer and executive vice president of research and strategic data solutions. From that position , Fayyad has been the responsible for Yahoo!'s overall data strategy, the Yahoo!'s architecting data policies and systems, and the manager of Yahoo!'s data analytics and data processing infrastructure.
On June 12,
New York Times Bits reported
that
Mr. Fayyad told his staff yesterday that he would be leaving and his departure is expected to be officially announced later today. Mr. Fayyad was the data guru at Yahoo, the person in charge of mining the terabytes of data collected by the company to improve things like the targeting of ads and content to Yahoo users. He was also in charge of Yahoo's well-respected research organization.
Gregory Piatetsky-Shapiro
reported in KDnuggets some interesting words
from Usama Fayyad, where he says it is a good time to quit Yahoo! as his team will be able to continue his work. Usama seems to want starting a new company taking advantage of his data mining knowledges and the huge vision about Internet, search, advertising and the future of interactive media that Yahoo! has offered to him.
With this announcement, Usama joins to many other
Yahoo! execs that are actually trying to "run away" from Yahoo!
.